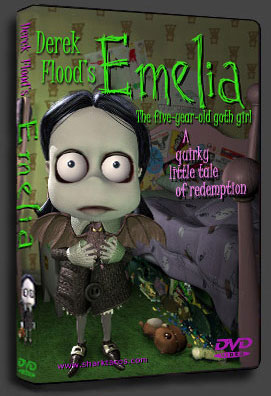 $12.95

Itís finally here! Own Emelia on DVD, jam packed with extras and insight into what went into making the independent short film.


(Bonus Features running time ca. 25 minutes)
5 production featurettes with in depth scene by scene looks into the film with director Derek Flood
original storyboards & animatics
concept art, sketches, maquettes, art development & spin tests
art lessons and how-toís
the music of Emelia
making monster sound FX
Emelia trailer
close captioned subtitles (English)
And a special guest appearance by Emelia herself!
"Emelia" tells the story of a five-year-old goth girl and the world as seen through her eyes. This dark and quirky story of redemption takes us into Emeliaís head, letting us see in wild and fantastic images what Emelia feels and thinks internally. Along the way, in seeing Emelia's insides, we just might see some of what's in our insides, too.

What more could you possibly want? But there is more! See the rest of the paraphemelia and spooky swag by clicking on that eerie green button below...